God is a comedian, playing to an audience too afraid to laugh.

-Voltaire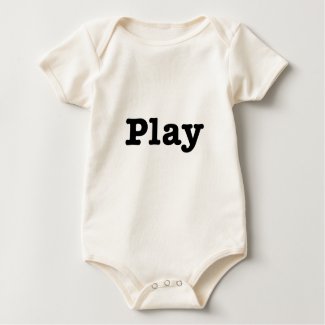 Play
by
upnorthpw
Become a
t-shirt affiliate
at zazzle.com
Life hurls some nasty curve balls. Our economy is in the toilet. Livelihoods are in jeopardy. For many life just "sucks" at the moment.
I picked this quote because it inspired to design this simple shirt. I chose the baby shirt model because babies just know how to play. Life sets us up to forget.
My sincerest hope is that we can start to recapture a playful attitude to any degree, and then share it with people that need is the most. If things are rough for you right now, I will smile in your honor, and send out some positive vibes.
The shirt above comes in many sizes and colors, just click it for more information or to buy.
Peace to you. I am thankful for your visit.
Jeremy