A friend of mine has this wonderful Native American Prayer hanging on his refrigerator. It sums up what I often feel like as I am getting ready to consume a great meal.
Here is the prayer:
The Tables Turn
By mystery of creators wish
I now transform plant, meat and fish
I take these lives with thanks and strength
And from them draw my life and length
I vow to live as fierce as they
In joy for yet another day
And worthy of this gift return
All with love when tables turn
I've added this poem to a few of my designs. I love the third stanza. Below is a coffee mug I designed. The moose comes from a photo I took of a moose mount (with a few digital adjustments). What do you think? Hope you enjoy the poem. If you do, share with others.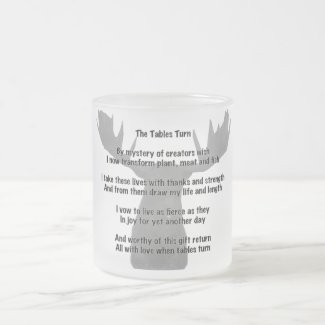 The Tables Turned Coffee Mug
by
upnorthpw
Put your favorite
photo on a mug
.